AGENT COOPER
Agent Cooper is: L to R: Eric Frampton, Sean B. Delson, Doug Busbee, Ganesh Giri Jaya and Mike Martin. (Photo credit Dirk Bruneinberg; at Divan du Monde, Paris, FR)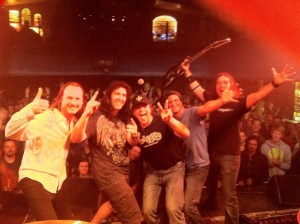 Atlanta-based Agent Cooper is a Southern Progressive Rock band formed in 1998 from the remnants of Atlanta progressive rock bands Salem Ash and Rain.
With two albums to their credit released on ProgRock Records in the 2000′s, most of the band spent the decade recording and touring with Fozzy and Stuck Mojo. Most notably, the band was called together to record and tour Rich Ward's major label solo release "The Duke: My Kung Fu Is Good".
In 2011, with the addition of drummer Ganesh Giri Jaya (also of the Reynolds & Williams Band) and guitarist Mike Martin (Favored Nations Artist), the Coop recorded a six-song EP, From The Ashes, released in early 2012 on Binary/Universal. The band's evolved sound evokes the spirit of 60s and 70s pop-prog heroes like Genesis, Kansas  and Yes, with the added spice of the band's southern roots, a la The Dixie Dregs, The Allman Brothers and Atlanta Rhythm Section. The result is a well-crafted, very listenable mix of art and technique, led by Doug Busbee's distinct, soaring vocals and gracefully progressive compositions.
In 2012, Agent Cooper took to the road as main support for guitar legend Tony MacAlpine for the Dream Mechanism tour. The bands performed in 14 countries throughout Europe, including the UK, Germany, Poland, The Netherlands, France, Spain, Italy, Greece, Romania, Slovkia, Hungary, The Czech Republic, Switzerland, and Bulgaria. They received enthusiastic responses and many invitations to return.
In the summer and fall of 2012, AC focused on writing and rehearsing, preparing material for a full-length release, Far From Sleep, sometime in 2013. The spring of 2013 finds the Coop again preparing for a round of live shows, this time in the US, beginning in March in their home base of Atlanta, GA.
The Band
Doug Busbee – Lead Vocals & Guitar
Doug on Facebook
Eric Frampton – Keyboards & Vocals
www.ericframpton.com
Eric on facebook:
www.facebook.com/ericframpton
Sean B. Delson – Bass & Vocals
Sean on Facebook
Mike Martin – Lead Guitar & Vocals
www.mikemartin.net
Mike on Facebook
Ganesh Giri Jaya – Drums & Vocals
www.ganeshgiri.com
Ganesh on Facebook:
www.facebook.com/ganeshgirijaya